meeting room | Ahead of time
Rent24 : Bos en Lommerplein 270-300 , 1055 RW Amsterdam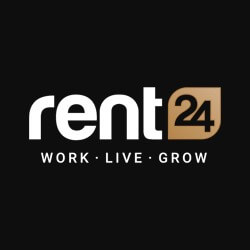 Jet
Contact

Built over de A10 highway, the Bridge Building is transformed into an inspiring workplace. The meeting and event spaces are elegantly furnished with an industrial character and are provided with all the needed facilities. Next to that the location also has a cosy lounge, an
international work environment and a community kitchen with a beautiful view over Amsterdam.
meeting room | Ahead of time
"The bad news is time flies, the good news is you're the pilot." This modest space (5m 2 ) is ideal for brisk meetings. The high chairs around the long modern tables give you the chance to jump up and add ideas on the wall filling whiteboard. Feel free to make use of the clipboards on the wall & let your thoughts drift away on the highway.
Additional Services
Lunch - BBROOD

Pure sandwiches with orange juice

€ 12.5 /booking

Coffee/tea/water service

It is calculated per guest per hour

€ 2.5 /guest

Sweets from BBrood

Haverkoek, Pecan-framboos, Brownie or Gevulde koek (€2,5 per piece)

€ 2.5 /guest
Suitable for
Conferences
Corporate Event
Meeting
Team Building
House rules
The location considers the agreement end-time plus max. 30 minutes run out. If the event takes longer than the agreement end-time plus the max. 30 minutes run out, there will be charge extra cost for the rent of the event space and cost for extra staff hours.
Special note
Catering
Besides the catering options provided, other special catering options are also possible. We work with BBrood and Van De Bovenste Plank. If you wish to have more information about extra catering options, let us know.
Facility
The room includes a standard LD-screen. the LD-screen has a standard connection HDMI. If you need another connection, please let us know.
Set up
The prefer setup is the standard meeting set up. For the setup we are using our in-house furniture.
Staff
During the event there will be a floor manager present. The floor manager is your contact person for the day.
How to get there
rent24 Bridge Building is the building crossed over the A10 highway. Located at the area Bos en Lommer. This district might be the best-kept
secret from Amsterdam with her numerous hotspots. Due to the location, it's very easy to reach by car. There's a Q-Park parking spot right
underneath the Bridge Building or park in the neighbourhood, the Kolenkitbuurt, which has plenty of parking spots. This location is also very reachable with public transportation. Both tram and bus stop in front of the door. The nearest train station is Amsterdam Sloterdijk.
Bring your own food is not allowed